One of the most important tools for managing the creation, revision, or migration of content for a website is the content work plan. There are commercial tools available, but we most often rely on a spreadsheet with columns for plan details.
To develop a content work plan we recommend these steps:
Match pages or sections in the new site architecture to existing pages where possible.
Identify what content is needed to help audiences accomplish their goals or to support strategic conversion goals.
Identify "buried treasure" content that could be brought to the foreground.
Determine how to handle pages or sections that don't have an obvious home in the new site architecture.
Provide high-level notes about the content to be edited or created.
Prioritize the content work based on audience impact — you may not be able to do everything you'd like to do in time for a launch. You can always tackle the rest later.
Below is an example of the Content Work Plan we created for the College of Idaho: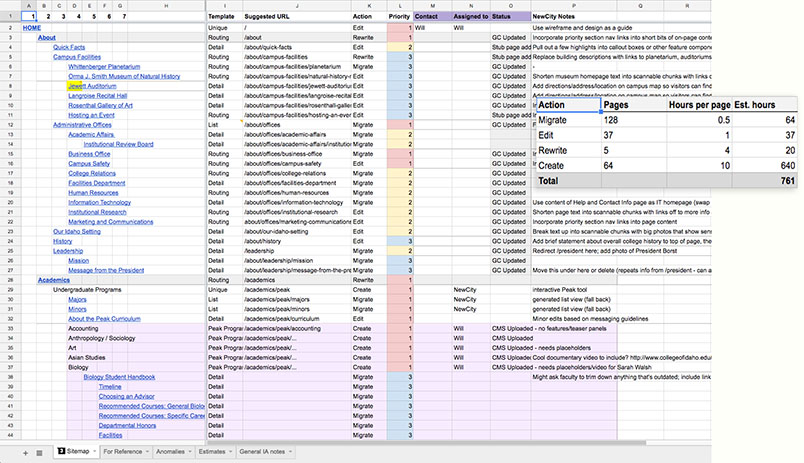 Content work plans can also be used as project management resource. In the example above, we used the "Action" classification in column K to estimate the hours required for the work in a separate spreadsheet tab.
Rubric for Evaluating Existing Content
These are helpful questions to ask as you evaluate existing content:
Does it address questions that each audience has when coming to this page?
Does it advance your organizational goals in a persuasive manner?
Is it communicated clearly and succinctly?
Does it support key brand messages where appropriate?
Does it back up messages with supporting facts or stories?
Does it follow best practices for web writing and visual formatting?
Can it be found via major search engines?
Is it suitable for mobile?
Is it clear what the user can/should do next?
Start your plan with NewCity's content work planning template.