A content data and interaction model is an overview of a particular type of content on your website. We use models to outline and plan content that is repeatable (usually) and structured like a directory listing, publication, lab, degree program, product etc.
Models show how your users interact with content and can be a guide for anyone who creates content or who decides how it should display on your site.
A content model usually includes:
Considerations (User Scenarios and Approaches) — things you may want to keep in mind about this type of content. Can include previous audience research, established or future goals, complicating factors, or recommendations for voice and tone.
Relationships – various ways that this content is related to other content types or data on your site.
Core & Optional Data — information you consistently want to display or use. Often these are separate fields within the content type.
Standard Display Options — description and basic wire of the typical ways that this content type is shown on the web or in print.
Examples — real world examples of how your organization or other organizations show this type of content.
This is a Person content model we developed for the Sanger Institute in the UK. Sanger led the research for the original Human Genome Project. The information focuses on the particular applications of a Person in a science or research context.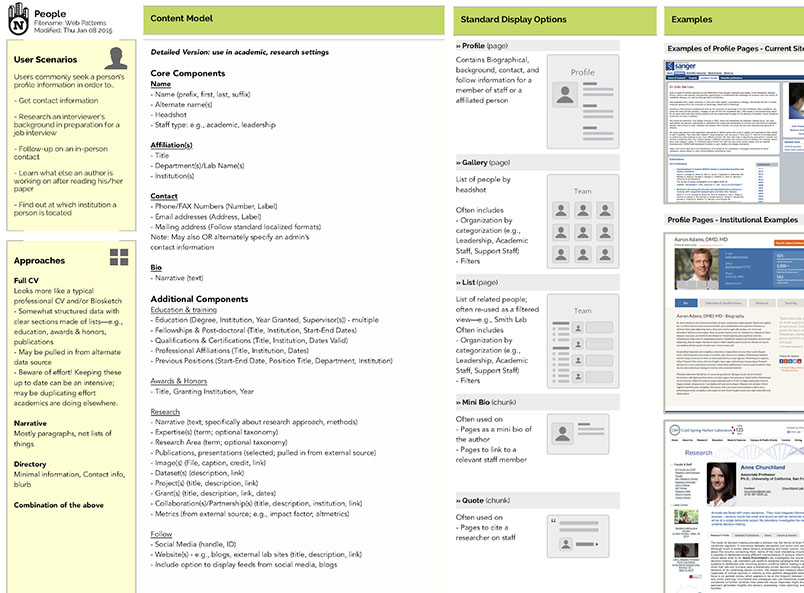 One of the things we've learned in our audience research for institutions like Sanger is that individual researchers are an important touchstone for people who want to learn about a topic or keep up with the latest research on a topic. So a profile page for an academic needs to support that goal.
That understanding informed our Sanger content model for the related Lab content type, which you can see here: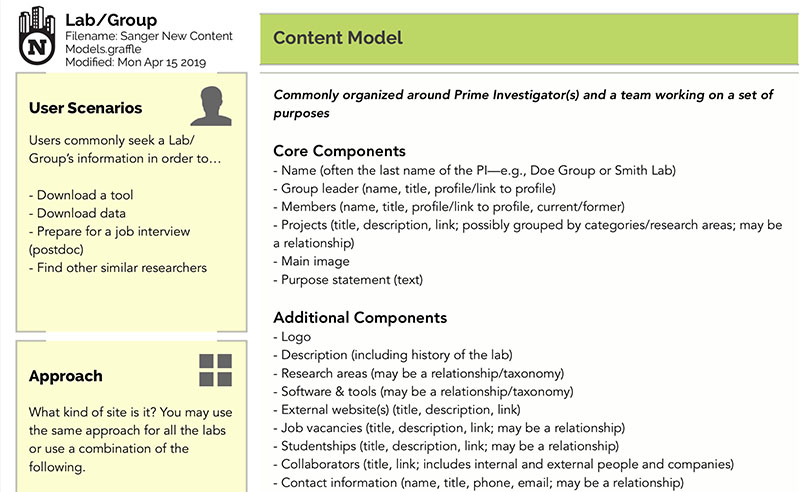 All of this built up to the creation of a template layout for research labs that features the principal investigator and also allows the user to easily discover the work and results of the full lab team.