A design collaboration with Fisk sets the stage for a new era with CalArts innovative center for visual, performing and media arts.

Project Scope



Discovery & audience research

User experience strategy

Information architecture & navigation strategy

Call to action (CTA) strategy

Content road map

Content strategy, copywriting, and messaging

Component library design & front end development

Drupal 9 implementation

CMS training and content coaching

Launch prep & support

Post launch report and support
Timeframe
January 2022 to September 2022
Tech Platform
Storybook, Drupal
The Roy and Edna Disney / CalArts Theater, better known as REDCAT, is CalArts' center for the arts in downtown Los Angeles. REDCAT's mission is unique, presenting "dynamic and far-reaching work by an international roster of innovative visual, performing and media artists" while also providing local artists a place to try innovative ideas before bringing them to a wider audience.
In the fall of 2021, a year into his tenure as Executive Director of REDCAT, João Ribas recognized it was time to raise the level of the center's brand and website. The previous site was not built to support the fast pace of operation or wide range of events REDCAT needed to showcase, and the visual design didn't capture the spirit of the center. 
CalArts partnered with Fisk and NewCity to reimagine their web presence. Fisk, a renowned Portland, OR design studio led by CalArts alumni, created the new brand and set the design direction for the site. With Fisk's personal connection they understood REDCAT's ethos and feel immediately. NewCity conducted audience research and developed the site architecture, and continued to consult on UX as we moved into the design phase. We worked closely with Fisk to adapt their concepts into an energetic design system that was accessible, flexible and scalable. We integrated the design with Drupal CMS, creating content types and a palette of layout elements to support the full spectrum of content and experiences REDCAT offers.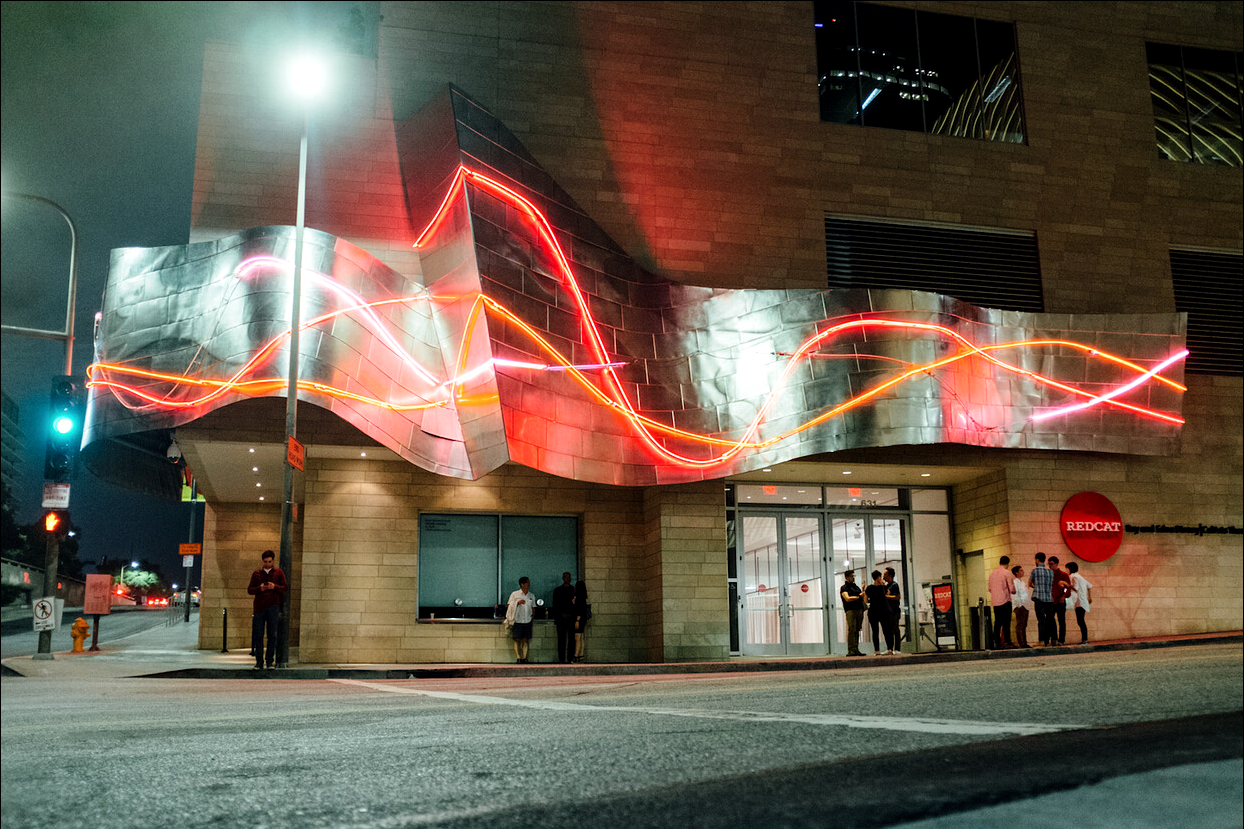 João told us, "The editorial and production process for the website is so much more efficient, it's even boosted morale." Because of the difficulty and inflexibility of the old site, REDCAT would print and mail a magazine with all the event details to their mailing list, encouraging people to call their number for tickets. This past season they were able instead to create a beautiful folding poster / calendar with event highlights and images, and direct people to the website for full details and online ticket purchasing.
"The new website has been entirely game changing for us, on the communication side, the audience engagement side, the perception side, with a website that reflects the actual contemporaneity of the institution," said João. "It's been an important transformation from the moment it launched."
REDCAT experienced a lift in engagement and ticket sales following the launch in fall 2022. The volume of phone orders dropped dramatically as audiences found online ticket buying easier. And the ability to offer streaming performances expanded their reach.
João concluded, "To get a great result is one thing. To get a good result and have everyone enjoy the experience is something else—our team felt heard, and like they made a contribution. And the outcome has been really significant for us."
"To get a great result is one thing. To get a good result and have everyone enjoy the experience is something else—our team felt heard, and like they made a contribution. And the outcome has been really significant for us."